News
New BETA Mark Recovery website
Posted June 11, 2019
A new update to the BETA Mark Recovery page has been released (https://beta.ngs.noaa.gov/cgi-bin/recvy_entry_www.prl). This update now allows users to submit photographs with their recoveries. Also included in the update are user experience improvements and minor bug fixes. The feedback that I received after the first release allowed for me to improve the page by fixing issues and including new features. Please inform your constituents about this release and ask for their feedback so that I can further improve the page. Please email me if you have questions, comments, concerns, etc.Thank you,Jay Howardjay.howard@noaa.gov-- Jay Howard, GeographerProject Analysis BranchOAD / National Geodetic Survey / NOS / NOAA1315 East-West Hwy SSMC-3, Room 8548Silver Spring, MD 20910
Provide your feedback on State Plane Coordinate System
Posted May 31, 2019
Colorado provide your feedback on State Plane Coordinate System Options for Colorado before it's too late. The deadline to submit feedback to the Colorado Geodetic Working Group is August 31, 2019. If you work in Survey or geospatial, we want to hear from you. We encourage all to participate; even if you have provided feedback to us in the past. This will be the final outreach opportunity to submit feedback on what YOU want the Colorado State Plane Coordinate System to look like for 2022 before Colorado submits their plan to the National Geodetic Survey. Please share the link to participate in the survey to those that may not otherwise see this posting. You do not need to be a PLS to participate. If you are unfamiliar with the State Plane Options, please review the article in the May 2019 edition of Side Shots titled "2022 Colorado State Plane Coordinate System" on pg. 19. Or email questions to NGS.Colorado@gmail.com. https://docs.google.com/forms/d/e/1FAIpQLSddgpmMKKaYsVdVin5NLcqZ-4Pl-p7xSgvyLcqN0oDqOjXlyg/viewform
Read More >>
SPCS2022 Policy, Procedures, and associated forms
Posted May 09, 2019
Attention: the SPCS2022 Policy, Procedures, and associated forms are now available to the public at https://geodesy.noaa.gov/SPCS/policy.shtml. There is also a link to an FTP folder with examples of completed forms (and associated files). The only thing currently in that FTP folder is a ReadMe.txt file, but I should be able to get some examples uploaded within the next few days (I'll work with some state stakeholders to get that done).I have also sent a similar email to the NGS Geodetic Advisors. I am sure that we will soon make a general announcement.Note that the quick links on the left side of the SPCS page set have been reorganized, and some have changed:* Final SPCS2022 Zones (https://geodesy.noaa.gov/SPCS/zones.shtml). This is a new page that will show the final zone parameters are they are defined. It's currently empty, since no zones are yet completely finalized. I hope to get some listed within the next weeks or so.* Maps of SPCS 83 and 27 (https://geodesy.noaa.gov/SPCS/maps.shtml). Similar to before, with the main change that the SPCS 83 legislation map has been moved to this page.* Learn More (https://geodesy.noaa.gov/SPCS/learn-more.shtml). Now includes the new policy and procedures, and an updated webinar list.
Change in Examination Process for Land Surveyors
Posted May 02, 2019
National Council for Examiners for Engineering and Surveying has announced that starting May 15, 2019, applicants wishing to take the exam for engineer or land surveyor enrollment or licensure should contact the vendor, the National Council for Examiners for Engineering and Surveying (NCEES), directly. The Division of Professions and Occupations will no longer pre-approve applicants for the exams. Please note that the required qualifications are not changing, only the application process.Between May 1-14, 2019, the Division of Professions and Occupations will not accept any applications for engineer or land surveyor enrollment or licensure in order to prepare for this transition. The on-line applications will not be available during this time, but updated applications and instructions will reflect the new process and be posted on May 15, 2019.As licensees, educators, employers and other key stakeholders, you have direct contact with the students and professionals who may need to know about this change. We appreciate any efforts you can make to spread the word, so students and professionals know the correct path to licensure and do not encounter unexpected delays. Questions should be directed to Renee Wunsch, Licensing Supervisor at renee.wunsch@state.co.us. Thank you for your assistance.
Classified Ads
Other Industry Events
Women surveyors from across the country are invited to attend the first-ever Women Surveyors Summit....
We are excited to announce the Surveyor's Historical Society (SHS) is planning its ANNUAL RENDEZVOUS...
Member Spotlight
PLSC would like to introduce you to our members. If you would like to submit your photo and information for a future Spotlight, email the information to plsc@plsc.net.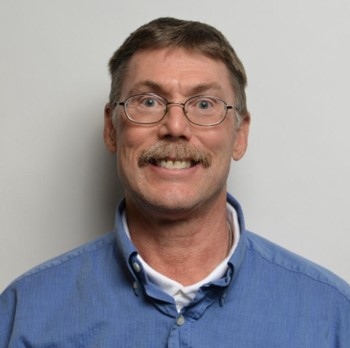 Thomas Breitnauer is a Professional Land Surveyor for the Denver International Airport Survey Section. He has been involved in land surveying since 1985 and is experienced in all types of land surveying. Thomas is licensed in the States of Colorado (1994) and Arizona (2004). Since the introduction of Global Positioning Systems (GPS) to land surveying in the mid-1990's, Thomas has learned how to set up control networks, process fast static sessions and establish strict quality-control procedures for verification of data content and position. This experience is now benefiting Denver International Airport with the establishment of their own Virtual Reference System (VRS) and seasonal monitoring of Primary Airport Control.
Thomas is trained in the following programs; National Geodetic Survey (NGS) OPUS Projects, Trimble Business Center and Autodesk Civil 3D. Thomas attended Colorado State University from 1978 to 1981 and the University of Idaho from 1981 to 1982.