Committees
The PLSC has several standing committees to provide additional services to our members. The following are the current standing committees of the PLSC:
Awards
- The purpose of this committee is to solicit award nominations then review and recommend these nominations on behalf of the PLSC Board.
PLSC Awards include:
Committee Chair:
Lief Joy
ljoy@joysurveying.com
---
Ethics & Fair Practices
- The purpose of this committee is to maintain an awareness of the ethics required to be a Professional Land Surveyor in the State of Colorado; To promote a professional image to the public, clients, employees, and other surveyors; And to help ensure a basic attitude of fair practice in the profession.
Committee Chair:
Ralph Pettit
ralph.pettit@denvergov.org
720-865-3031
---
Education
Committee Chair:
Kayce Keane
kayce@BLCsurveyors.com
303-443-3616
---
GPS Committee
Brian Dennis
BrianDennis@GallowayUS.com
Eric Carson
ericc@cwc-consulting.com
---
Legislation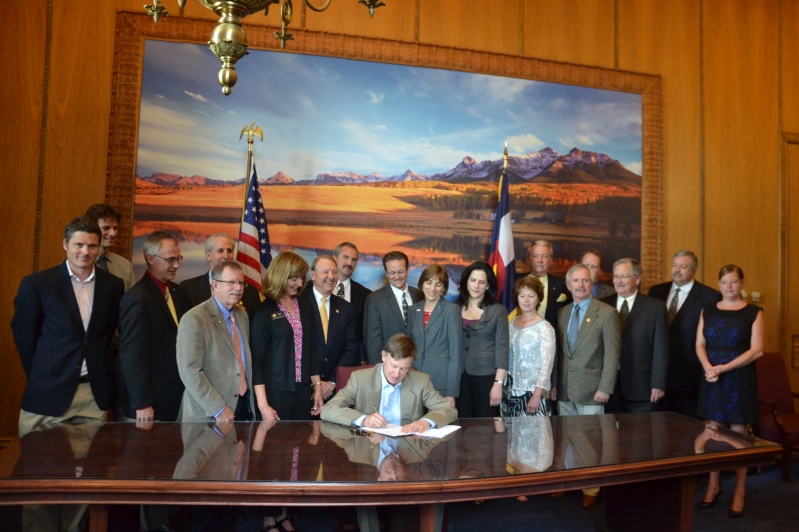 Governor Hickenlooper singed SB13-161, Concerning continuation of the state board for licensure of architects, professional engineers, and professional land surveyors and implementing the recommendations of the 2012 sunset report by the department of regulatory agencies, on May 28, 2013. The signing ceremony was attended by representatives from the Architects, Engineers, and Surveyors professional organizations.
For a copy of the 2013 ILC Statute, click
here
.
Committee Chair:
Paul Bacus
bacussurveying@hotmail.com
720-890-0182
Committee Members:
Todd Beers
Doug Berling
Alan Blair
Dan Corcoran
Brian Dennis
Patrick Green
Peter Krick
Roger Nelson
Parker Newby
Warren Ward
---
Liaison
Committee Chair: Open
---
Membership
Committee Chair:
Steve Parker
land_surveyist@hotmail.com
719-641-3355
---
Publications
- The purpose of this committee is to oversee the written materials that go out to the membership and the larger community. This includes
Side Shots
and PLSC website.
Committee Chair: J.B. Guyton
jguyton@flatsurv.com
303-443-7001
---
Survey Monuments & Records Standard
Committee Chair: Open
---
Special Committees
GIS in the Rockies
- The Professional Land Surveyors of Colorado (PLSC), GIS in the Rockies Committee purpose is to establish long lasting relationships with businesses, government entities, and academia to foster collaboration and education related to relevant topics, emerging trends and innovations across the geospatial community on behalf of the PLSC via the GIS in the Rockies forum. This includes representing the PLSC in the GIS in the Rockies vendors' hall, and sponsoring a "surveying tract" of guest speakers focused on presenting land surveying topics for a geospatial audience.
TrigStar
If you would like to serve your profession and the association by joining one of these Committees, please contact Becky Roland at 303-551-3266 or
broland@plsc.net
.