Job Board
All Job Openings are posted on our Home Page.
A Career in Land Surveying
Surveyors must have a thorough knowledge of algebra, basic calculus, geometry, and trigonometry. They must also know the legal principles that deal with surveys, property, and contracts.
Here are a few great videos on becoming a part of the surveying profession:
What is Professional Land Surveying?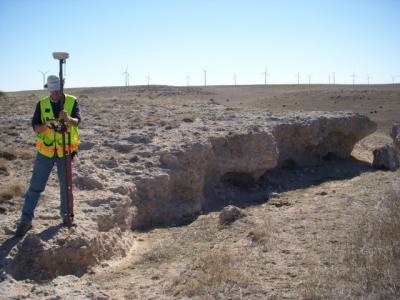 "Professional land surveying" means the application of special knowledge of principles of mathematics, methods of measurement, and
law
for the determination and preservation of land boundaries. "Professional land surveying" specifically includes:
(I) Restoration and rehabilitation of corners and boundaries in the United States public land survey system;
(II) Obtaining and evaluating boundary evidence;
(III) Determination of the areas and elevations of land parcels;
(IV) Subdivision of land parcels into smaller parcels and layout of alignment and grades for streets or roads to serve such smaller parcels;
(V) Measuring and platting underground mine workings;
(VI) Preparation of the boundary control portions of geographic information systems and land information systems except as allowed otherwise by section
38-51-109.3, C.R.S.
(VII) Establishment, restoration, and rehabilitation of land survey monuments and bench marks;
(VIII) Preparation of land survey plats, condominium plats, monument records, property descriptions that result from the practice of professional land surveying, and survey reports;
(IX) Surveying, monumenting, and platting of easements and rights-of-way;
(X) Geodetic surveying;
(X.5) Basic control for engineering projects; and
(XI) Any other activities incidental to and necessary for the adequate performance of the services described in this paragraph (a).
(b) An individual shall be construed as practicing or offering to practice "professional land surveying" within the meaning and intent of this part 2 if such individual engages therein or, by verbal claim, sign, letterhead, or card or in any other way holds himself or herself out to be a professional land surveyor or as being able to perform any professional land surveying service or if such individual does perform any professional land surveying service or work.
(c) Professional land surveying may include other types of surveying.
Who Employs or Retains a Professional Land Surveyor?
Architects, Attorneys, Banks and Lending Institutions, Builders and Contractors, Court Judges, Government Agencies, Home Owners, Land Developers, Planners, Professional Engineers, Realtors, Rural Land Owners, Title Companies, Utility Companies, etc.
What schools have land surveying programs?
The list of schools with land surveying programs is ever changing. The link below is comprehensive, but may not be complete and changes several times per year. Be sure to contact the educational institution directly for the most up-to-date information.
Click
here
for a list of programs.